I bought a brand new weathering steel planter and put it in front of my house. It's a metal that oxidizes slowly over time. I didn't want to wait around for that day, so I did my own accelerated rust removal process, which produced a beautiful rust color in a few hours.In my previous house, I used to remove rust from the metal surface because it didn't fit my suburban, typical colonial brick central hall house.When we moved to Lake Murray at the Lake, surrounded by towering pine trees, I began to seek out more natural decorations as they fit in with the house and its natural surroundings.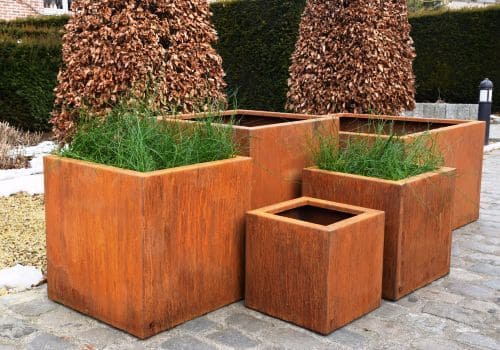 We're not ready to make any major updates to the exterior yet, but are already working on a number of smaller, budget-friendly DIY projects to update the look and bring a modern vibe to the house and roof lines.
Over the past two years, we've removed a lot of shrubs, painted all the exterior parts with stained wood grain, painted the previous green of the house khaki beige with Glidden External Primer and paint, and added a stained wall of wooden slats to the front.
These updates have made a huge difference, but I still have 3 small items to add to the front.
One of them is a tall modern planter that sits on the other side of the garage door. The area needed something to balance out the rusty brown color of the house.
Searching online for a modern style flower pot, I found this and ordered it. It was a bit expensive, but I bought it because it fits perfectly and will last a long time. This is an AHL metal series base weathering steel flower basin.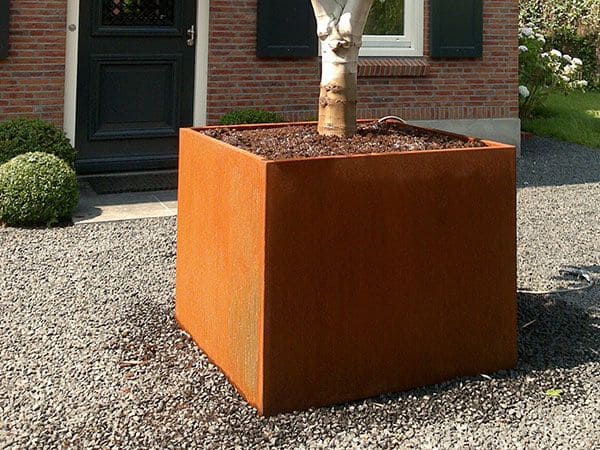 I also knew I had no green thumb, so I bought a fake boxwood tree to put in it. The metal pot is insulated and has drainage, so if I do grow something in it, it's ready to go.
What is weathering steel?
Cort-ten ® resists the corrosive effects of all seasons by forming a dark brown oxide layer on the metal surface.Planters of AHL Corten Steel ship as raw Steel, gradually developing a rich rust color over time. Mine started oxidizing after a few days, but I couldn't wait and accelerated the oxidation.
How long does corten steel rust?
Just a few hours after I started spraying the metal with a homemade accelerated rust removal mixture, the steel began to take on a rusty sheen.I made the mixture according to AHL's instructions and sprayed it onto the metal surface every hour until I liked the way it looked.