Is there anything better than BBQ? Cooking over a wood or charcoal fire only elevates the food, maybe because it's just raw, but no doubt it tastes great!
If you are an outdoor barbecue lover, then you will love the Cor-ten Steel BBQ Grill. Made of high-quality Cor-ten steel, this grill is both aesthetically pleasing and functional, and will add class to your outdoor grilling. Cor-ten steel is a popular material choice for outdoor grills due to its durability and weather resistance. A Cor-ten steel grill is a grill made from a special weather-resistant steel. Cor-ten steel is a high-strength and weather-resistant alloy steel that resists weathering, corrosion and wear.
The uniqueness of the Cor-ten steel grill lies in its material and design. After Cor-ten steel is oxidized, a thick layer of rust will form on the surface, which not only provides protection for the steel, but also has unique aesthetic value. Cor-ten steel grills are also exquisitely designed and can be customized to suit different outdoor spaces.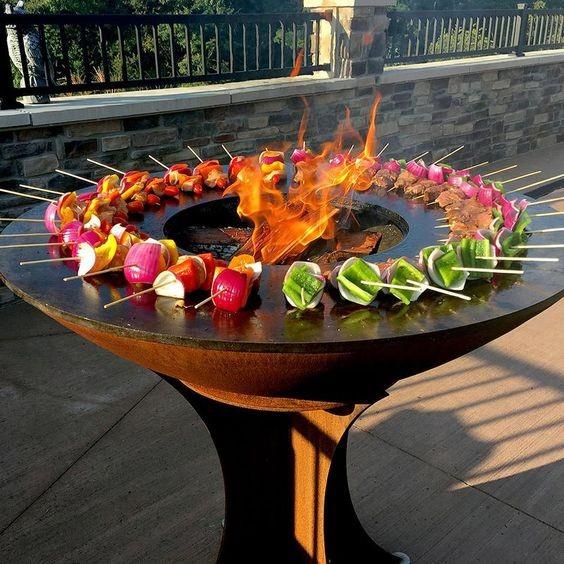 What is Cor-ten Steel?
The material is actually high-strength steel, which is extremely weather-resistant despite its weathered appearance. In fact, COR-TEN has been a trade name since the 1930s to describe weathering steel. While its primary use is in architectural structures, train carriages, and even ornate sculptures such as Richard Serra's Fulcrum in London, England, 1987, this steel alloy is now used in outdoor decorative products!
The finish of each of our special cor-ten steel fire pits is aged to look as if the product has been sitting in the elements for about a month. Note that your new fire pit will have a layer of "rust" residue from the manufacturing process, so we recommend that you avoid touching or sitting on it to avoid staining the surface (or your clothes). This layer fades away within a short time after exposure to the outdoor elements.
Cor-ten steel is a popular material choice for outdoor grills due to its durability and weather resistance. Grills have been around for centuries and have become a popular way to cook delicious food. But with so many options and features to choose from, it can be difficult to decide which grill is best for you. This guide will help you learn about the different types of grills, what they offer, and which one is right for you.
Cor-ten steel is an attractive and durable material that can be used to give your grill a rustic yet stylish look. Corten steel is highly resistant to corrosion and is ideal for outdoor cooking and entertaining, making it the perfect place to showcase your culinary skills.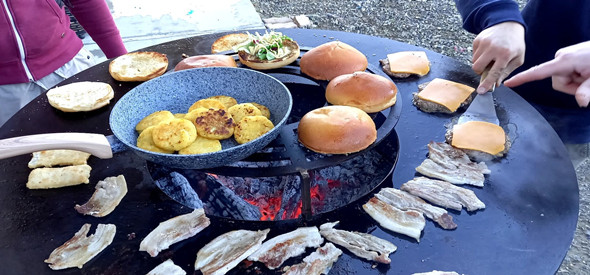 Benefits of Cor-ten Steel for BBQ Grills
Cor-ten steel grills have many advantages. First, it's extremely durable, able to withstand the rigors of different seasons, and won't rust or corrode even after prolonged exposure to the outdoors. Second, it is able to provide premium cooking performance due to the excellent heat transfer and retention properties of steel. In addition, the Cor-ten steel grill also has a long service life and can become a fixture of your family barbecue, bringing endless fun to your outdoor life.
In conclusion, the Cor-ten steel grill is an excellent outdoor grill that offers weather resistance, aesthetic value, and cooking performance unmatched by other grills. If you want a good-looking, functional, and durable outdoor grill, the Cor-ten Steel Grill is definitely worth checking out.
Design Features:
First of all, Corten steel is an alloy steel with anti-rust properties, and a layer of strong oxide skin is formed on its surface, which can prevent further oxidation and corrosion of steel. Therefore, Corten Steel BBQ Grill can be used outdoors without worrying about oxidation and corrosion problems.
Second, the grill's clean design, sleek lines, and sleek styling make it a perfect match for modern outdoor spaces. Not only that, but its appearance can also be enhanced by the influence of time and weather, which brings a unique style to your outdoor barbecue.
Plus, the Corten Steel BBQ Grill is also extremely durable and can be used in any climate. Since it is made with high-quality materials and fine workmanship, it is very strong and will stand the test of time and use.
What's more, this grill is also flexible and removable. Since it's not as bulky as other grills, you can easily move it where you want it. This makes it ideal for outdoor gatherings, ready to be moved where you need it.
Finally, the Corten Steel BBQ Grill is also super easy to clean and maintain. All you need to clean it is normal detergent and a damp cloth, which makes it very convenient and easy to maintain.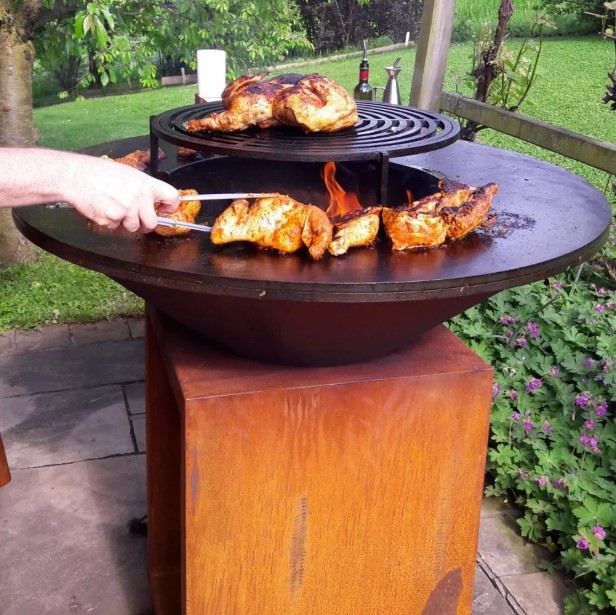 How to Care for Cor-ten Steel BBQ Grills
Cor-ten steel BBQ grill is a very unique grilling equipment made of material that makes the grill durable, corrosion and rust resistant. However, like all grills, a Cor-ten steel BBQ grill requires regular care and maintenance to ensure its long-term use.

Clean after each use:
Always clean the grill after each use. Use water and soap, or a specialized grill cleaner. Be careful not to use hard cleaning tools when cleaning to avoid scratching the surface of the grill. After cleaning, please wipe dry with a clean cloth.
Regular oiling:
Cor-ten steel BBQ grills require regular oiling to maintain their appearance and protect their surface. This oil can be purchased at large building supply stores or on the Internet. When using protective oil, please follow the instructions in the instruction manual and make sure to apply it evenly.
Avoid Exposure to Extreme Weather Conditions:
While Cor-ten steel BBQ grills are rust and corrosion resistant, prolonged exposure to extreme weather conditions may damage them. Therefore, it is recommended to store the grill in a dry place when not in use, or to protect it with a special grill cover.
Avoid harsh cleaners:
To protect the surface of your Cor-ten steel BBQ grill, do not use any harsh cleaners or solvents as they may corrode or damage the grill surface.
Regular Inspection:
Regularly inspect your Cor-ten steel BBQ grill for any damage or breakage such as rust, scratches, cracks, and more. If you find any problems, please fix them in time.
All in all, if you want to take good care of your Cor-ten steel BBQ grill, the most important thing is to give it regular care and maintenance. As long as you follow the above method, your grill will last for a long time and bring you delicious grilling enjoyment.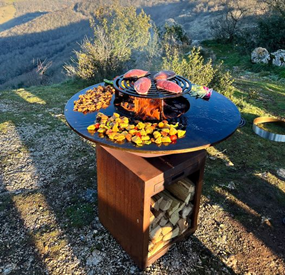 Application
Whether you're grilling tender steaks or preparing a fish meal, with the Cor-ten steel BBQ grill you'll discover a new way to cook and the possibilities are endless when cooking outdoors.
The AHL cor-ten steel BBQ Grill is more than just a great grill, it stands out from the crowd due to its eye-catching appearance. The reddish-brown color of the casing complements the stainless steel details, making it the focal point of your garden barbecue. The AHL cor-ten steel grill is sure to wow your guests.Cooking at the AHL cor-ten steel BBQ Grill is not just about enjoying a delicious BBQ, it's also an opportunity for you and your friends and family to enjoy it together. Everyone gathers to chat and cook together. It's a social event, not just a meal, creating a special atmospheric culinary experience for you and your guests.The Corten Steel BBQ Grill is a high quality, beautiful, durable and easy to maintain grill. It can not only make your outdoor barbecue more convenient and tasteful, but also become a highlight of your outdoor space. If you're looking for a high-quality outdoor grill, the Corten Steel BBQ Grill is definitely a great choice.