Large corten steel BBQ with perfect outdoor atmosphere in winter
Barbecue oven is a kind of versatile stove. Thanks to the flat, wide edges, you can prepare several dishes at once. From frying the most delicious cuts of meat to grilling fresh vegetables. Grease and bake on a baking sheet!
The circular design allows you to cook food or enjoy a bonfire with family and friends while enjoying a pleasant drink conversation. The fire provides pleasant warmth within two metres and makes outdoor cooking fun even in winter! The grill is made of weather-resistant steel and can be left outside all year round, no matter the weather. Weathering steel has a brown/orange rust color and can be used for a long time. After use, the weathering steel becomes a beautiful and natural patina. The longer you use it, the better it will be.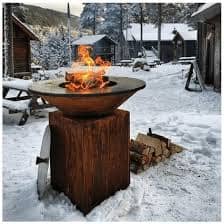 back