When many people hear the word rust, they think of that pesky stain on an old shovel or appliance. The self-protective rust on our Corten panels is different. It is both charming and rustic, with a classic medieval look. It also prevents corrosion. This means you don't need to paint or weatherproof Corten panels.



What is a Corten steel panel?
Corten steel panels or corten steel are used for landscaping and outdoor construction. Corten steel panels are different from regular steel because they are made of alloys that develop self-protective rust spots when exposed to the weather. This protective corrosion is called patina. In other words, Corten steel plate has rust-proof properties in a way that ordinary steel plates do not.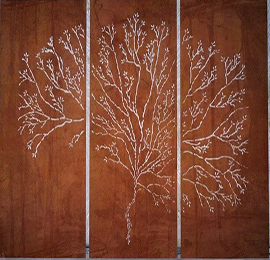 Corten steel material
Corten steel is a high strength weathering steel that, when exposed to weather, forms a stable, attractive rust-like appearance. The thickness of the steel plate is 2mm. The screen is suitable for a variety of indoor and outdoor applications. We can produce metal panel screens in other sizes and themes. Landscape fence seprates, protects and decorates green belts in parks and public squares. The metal elements inside corten steel make it have higher performance in strength, anti-corrosion, weather resistance and environmental-friendly compared to other materials, fulfilling people' pursuit of personality. Besides, rusty red corten steel fence and green plants set off each other, building a beautiful landscape.

There has been no impact on the strength or durability of the Corten panels. As a result, our Corten weatherboard is extremely durable and attractive, making it an excellent choice for decorative pieces you might find on the exterior of a building, garden privacy panels, etc.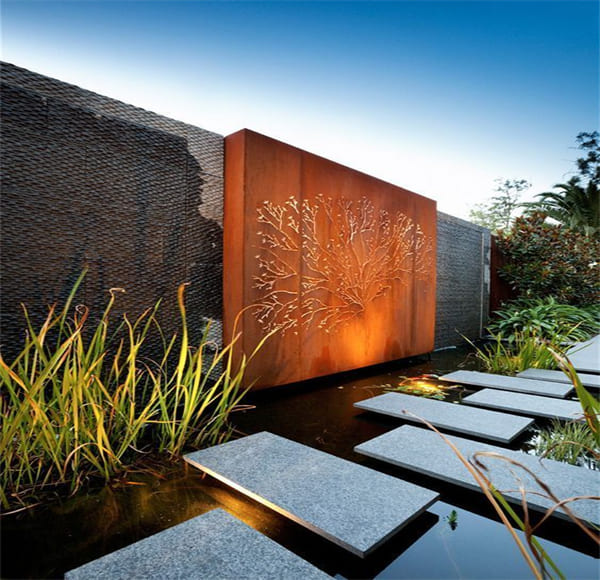 Color and use of corten steel panels

Due toits own self-protective rust layer, the AHL Corten panel has a warm tone. This makes them ideal for places that need more warmth and vitality. At the same time, Corten panels usually have the smallest thickness. This makes the panels ideal for areas such as large brick walls.


Application Scenario

Corten panels with a simple collaborative retro style are an excellent choice for any structure. You can use them for walls, trim, dividers, privacy screens, door trim, and gazebos are usually made of Corten panels, and you can use them for other purposes as well.

Corten garden screen panels is made by 100% corten steel sheet also called weathered steel panels which enjoy the unique rust color, but not rot, rust or take off rust scale. Decorative screen by lazer cut design can be customized any kind of flower pattern, model, texture, characters etc. And with the specific and exquisite technology at pre-treated of corten steel surface by best quality to control the colour to express different styles, modal and environments's magic, elegant with low-key, quiet, carefree and leisurely etc feeling.

• For indoor and outdoor privacy or to hide certain areas such as private gardens, private swimming pools, etc
• Acts as a space divider to separate any space into different areas
• As wall decoration, rather than pictures and paintings. With the background light, when night falls, the lights turn on and illuminate your private space, which is very beautiful.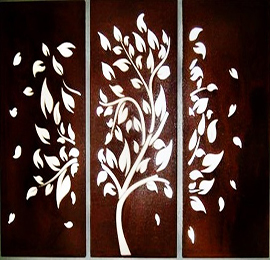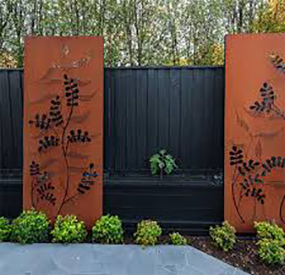 Custom Designs
Our general size is1800*900mm.If you have a specific design idea or size request, please contact us. We will work with you to create your very own bespoke design or purpose built screens.